Reading
At Bramhope Primary School, we are committed to fostering a love of reading from an early age. We aim for all our children to become fluent, confident readers who are passionate about reading.
Throughout the school, we enthuse about books and reading of all kinds. We promote good habits to support reading. These include:
Parents and carers reading aloud to children throughout the primary phase.
Teachers sharing favourite books, characters, and texts.
Teachers regularly, frequently and skilfully reading aloud to their class.
Choosing texts which make valuable links between different areas of the curriculum.
Promoting frequent ring-fenced time for reading.
Guiding children in their choice of reading material.
Using 'reading champions' to promote reading and influence choice of books in school.
Encouraging a 'mixed-diet' of reading materials, including poetry and non-fiction.
Hosting celebratory days such as World Book Days.
Praising and rewarding children who read regularly –for example reading with Noodle the dog.

To support our teaching of language comprehension, we use VIPERS and supportive resources from the Literacy Shed. These include lessons plans using high-quality texts.
We use VIPERS as part of our Reading Lessons, which are taught to improve the pupils' skills across all areas of reading. VIPERS is an acronym to aid the recall of the 6 reading domains as part of the UK's reading curriculum. They are the key areas which we feel children need to know and understand in order to improve their comprehension of texts.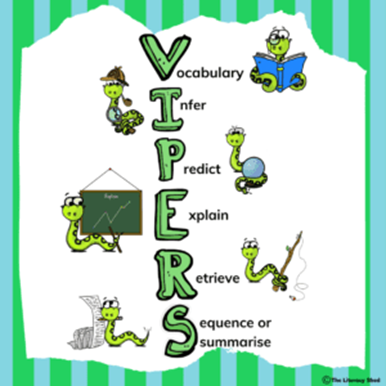 Key Stage 1