Growing Bramhope
Scroll down to see the Growing Bramhope Timetable
In order to create a sustainable future for the wildlife area, a new project called Growing Bramhope which will enable every child to benefit from everything that gardening has to offer will launch. This year, 'Season Well' will be helping us further develop the garden and working with us to involve all the children in growing and cooking their own fruit, herbs and vegetables.
Season Well is a new, local, social enterprise which aims to educate children about where food comes from and get more families enjoying fresh, local, seasonal fruit, herbs and vegetables. For more information click here.
Each child will receive 4 Season Well workshop sessions over the next 2 terms. These will be:
A Planning session: children will talk about fruit and vegetables and where they come from; visit the garden and start sowing some seeds to grow indoors
A Planting Session: children will work outside in the garden planting seeds and seedlings
A Growing Session: children will learn skills like feeding, watering and composting
A Harvesting and Cooking Session: children will pick the produce in the garden and be taught how to cook a delicious meal with the food they have grown themselves. Following the final session, each child will go home with a recipe to share and hopefully cook at home again together.
At the end of the project, we are planning to hold a harvest festival celebration event where every child can bring in some food that they have learnt to cook and share it with others.
In addition to the workshop sessions, the children will become more active in looking after the garden. A group of volunteers- our garden champions will do extra jobs in the garden. This group will be a mix of children and adults including parents and grandparents volunteering.
The benefits of this opportunity:
Introducing children to an outdoor activity that they can enjoy for the rest of their lives.
Working collaboratively, with adults and other children, towards a long-term goal.
Being outdoors and working in the natural world.
Learning about the benefits of cooking, nutrition and a healthy, seasonal diet.
Growing Bramhope Timetable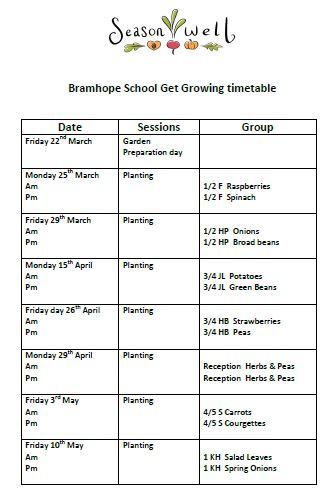 More sessions involving all classes coming soon...
If you would like to volunteer to help out and haven't already it's not too late! Please e-mail admin@bramhopeprimaryschool.co.uk or pop into the School Office.
Let's Get Growing Bramhope!